For a good friend, we got a somewhat ailing chicken house.
My husband and I want to lovingly restore and pimp it.
Of course, the house should also have a special touch of mine.
So I had the idea, the chickens need a Fox trophy!
Everyone should know here live brave and courageous chickens!
But my papermache trophies are not weatherproof! But there are many artists using ApoxieSculpt. Sculptures from this mass should be weatherproof!
Whoosh! Ordered! Now it is tested!
I made my head out of aluminum foil. Because of this, aluminum foil, because it does not swell and does not mold if it should get wet.
The ApoxieSculpt consists of two components. These must be well mixed together. But do not worry, you can see by the color and feel when you've kneaded enough.
What I did not know, ApoxieSculpt stinks terrible!
But you get used to it. And it's just good weather and I could work with open windows and doors.
But please always wear gloves !!! There are Youtuber who do not wear gloves - but read the little leaflet! Please protect yourself with gloves!
It is a chemical substance. I do not want to know what it can trigger for skin irritation. What substances can be absorbed through the skin, which may later develop into bad diseases!
But I am excited! ApoxieSculpt can be processed very well. It's a supple mass. When hardened, she is rock solid! And hopefully really weatherproof!
I have already worked with Fimo. And no matter how long I kneaded it, it was too stubborn for me ....
But in my opinion ApoxieSculpt is really good to work with !!
Next week, I'll show you how I worked. Be curious! Wish you a nice week!
See you!
---
A little late, I'm sorry ..
I made two layers of this ApoxieSculpt around my fox's head. The first layer for the contours. The second layer, very thin, I put the individual hairs in it.
That was a lot of fun! And I think it was really great. My little fox now has fur!
Here you see the first layer.
He grins mischievously and has a slight pout. I like this.
Here is the second shift. Now my fox has fur!
And ... tataaa ...
Here I have it ready.
He is ready painted. I just used my acrylic paints. The fox is actually dull, only his nose I painted shiny.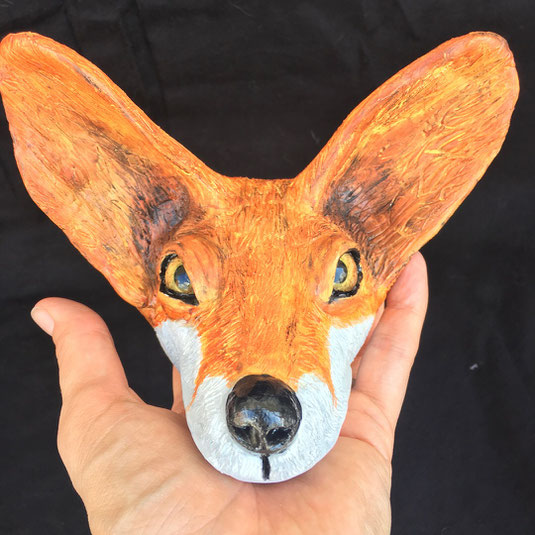 I fell in love with his look!
Is not he lovely and so cute?
He nestles perfectly in my hand.
As soon as the chicken house is finished, it is fastened out there.
Then it will be exciting to what extent the material is really weatherproof. And I think how weatherproof is the color? Hmmm ... I think I will apply one or two coats of matt acrylic varnish with UV protection. Hope so the color stays beautiful for a loooong, long time.
What do you think of him?